Understanding Florida's Criminal Justice System
Florida's Criminal Justice system is responsible for providing public safety by deterring and preventing crime, punishing offenders, and reintroducing those who have served their time back into the community. The criminal justice system is based on the body of laws that define crimes and offenses, and specify what punishments are appropriate for those crimes.
There are two types of crimes that are defined by Florida State law: felonies, misdemeanors.
Felonies are usually the most serious crime. An individual that is convicted of a felony may face jail time, though that time may be spent in either a county jail, or a state prison. Felonies cover crimes that are considered both serious, and/or violent. Commonly known felonies include murder, robbery, rape, burglary of a residence, and assault. Felony punishments vary in harshness depending on the nature of the crime, discretion of the court, and the offender's criminal history. In Florida, felonies are divided into 5 categories.
Capital Felony - punishment includes life sentences or death. This is usually associated with murder, armed kidnapping, and capital drug trafficking.
Life Felony - punishable by life imprisonment and fines up to $15,000. This is usually associated with accomplice to murder, kidnapping, and sexual battery.
Felony of the first degree - punishable by up to 30 years in prison and fines up to $10,000. Commonly associated with aggravated battery, to a law enforcement officer, rape, and burglary.
Felony of the second degree - is punishable by up to 15 years in prison and up to $10,000 in fines. This is normally associated with serious child abuse, possession of a controlled substance with intent to sell, and sexual battery.
Felony of the third degree - punishable by up to 5 years in prison and up to $5,000 in fines. This is usually associated with cocaine possession, violently resisting arrest, and a third time DUI offense.
A misdemeanor is typically a less serious crime, and common punishments include probation, county jail time, fines, or a combination of all three. Common misdemeanors include assault, theft, and public drunkenness. In Florida, there are both first and second degree misdemeanors.
First Degree Misdemeanor - punishable by up to one year in jail, 12 months of probation, and up to a $1,000 fine. Common first degree misdemeanors are cruelty to animals, possession of drugs, and battery.
Second Degree Misdemeanor - punishable by up to 60 days in jail, six months of probation, and up to $500 in fines. These misdemeanors are usually associated with drunk and disorderly, trespassing, and driving with a suspended license.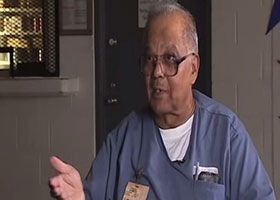 In 1986, British citizen Krishna Maharaj was convicted of the double homicide of Duane and Derrick Moo Young. New evidence has connected the killings with infamous cocaine kingpin Pablo Escobar.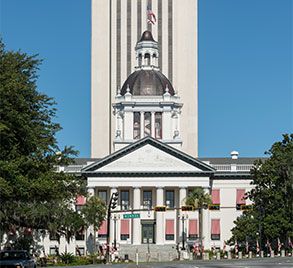 The New Capitol Building in Tallahassee stands behind the Old Capitol Building.
By DXR - Own work, CC BY-SA 4.0, https://commons.wikimedia.org/w/index.php?curid50283634
Florida's criminal justice system is comprised of a Supreme Court, five district courts of appeal, 20 circuit courts, and 67 county courts. They had more types of court than any state with the exception of New York until 1973, when a reform movement reduced the courts to a simple two tier system. Most jury trials in Florida take place before a single judge in a circuit court, which are sometimes called Courts of General Jurisdiction, since most criminal and civil court cases begin at that level.
The highest court in Florida, the Supreme Court serves as the highest appellate court in Florida.
It was first established in 1845 after it's introduction into the United States. Originally, justices held court in the historic Old Capitol Building in Tallahassee, but moved to the New Capitol Building in 1970. Since its first case in 1846 - Stewart v. Preston - the court has followed common law, and published it's opinions for the public to review. Today, the court is located at 500 S Duval St in Tallahassee.
The Supreme Court of Florida consists of six court justices and one Chief Justice. Five members are selected from five districts throughout the state. Each justice serves for six years, and are appointed by the Governor of Florida. The Chief Justice is instead elected by members of the Court, and serve two-year terms. At least five justices must be attending court in order to carry out official functions, and at least four justices must agree on decisions made by the court.
The Jurisdiction of the Supreme Court of Florida, as stated in Article V of the Florida Constitution, establishes mandatory jurisdiction for certain types of cases. Cases in lower courts in which the death penalty is a factor are reviewed to make sure the law is upheld appropriately. Decisions a District Court of Appeals declaring an invalid status or constitutional provision are also reviewed. Finally, The Florida Constitution permits the Florida Legislature to provide for mandatory jurisdiction for final judgements involving validation of bonds or certificates of indebtedness, and for review of action of statewide agencies relating to rates of utilities like electric, gas and telecom services.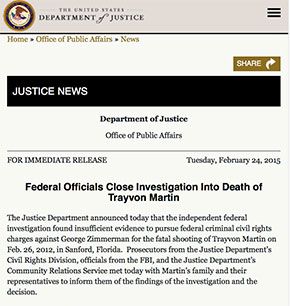 In 2013, George Zimmerman was put on trial for the murder of 17-year-old Treyvon Martin. The case sparked national interested and protests over the shooting of an unarmed black teenager.
Florida's other appellate courts, the District Courts of Appeals, serves under the Supreme Court, but above the state's trial courts. There are five District Courts in the State of Florida. Decisions of the district courts represent the final appellate review of litigated cases.
First District Court- 2000 Drayton Dr, Tallahassee, FL Phone: (850) 487-1000, (850) 488-6151
Second District Court - 1700 N. Tampa Street, Suite 300 Tampa, Florida 33602 Phone: (727) 610-3740, (727) 610-3741, Marshal's Office (727) 610-3742
Third District Court - 2001 SW 117th Ave, Miami, FL Phone: (305) 229-3200
Fourth District Court - 110 S Tamarind Ave, West Palm Beach, FL Phone: (561) 242-2000
Fifth District Court - 300 S Beach St, Daytona Beach, FL Phone: (386) 947-1530
Florida has 20 Circuit Trial Courts, which have jurisdiction over matters not assigned to the county courts. They are also responsible for hearing appeals from the county courts. Each circuit court holds greater jurisdiction over multiple counties.
First Circuit - Escambia, Okaloosa, Santa Rosa and Walton
Second Circuit - Franklin, Gadsden, Jefferson, Leon, Liberty, and Wakulla
Third Circuit - Columbia, Dixie, Hamilton, Lafayette, Madison, Suwannee and Taylor
Fourth Circuit - Clay, Duval and Nassau
Fifth Circuit - Citrus, Hernando, Lake, Marion and Sumter
Sixth Circuit - Pasco and Pinellas
Seventh Circuit - Flagler, Putnam, St. Johns and Volusia
Eighth Circuit - Alachua, Baker, Bradford, Gilchrist, Levy, and Union
Ninth Circuit - Orange and Osceola
Tenth Circuit - Hardee, Highlands, and Polk
Eleventh Circuit - Miami-Dade
Twelfth Circuit - DeSoto, Manatee, and Sarasota
Thirteenth Circuit - Hillsborough
Fourteenth Circuit - Bay, Calhoun, Gulf, Holmes, Jackson and Washington
Fifteenth Circuit - Palm Beach
Sixteenth Circuit - Monroe
Seventeenth Circuit - Broward
Eighteenth Circuit - Brevard and Seminole
Nineteenth Circuit - Indian River, Martin, Okeechobee and St. Lucie
Twentieth Circuit - Charlotte, Collier, Glades, Hendry and Lee
Finally there are the County Trial Courts. These are the lowest courts in Florida and typically hold jurisdiction over civil matters involving $15,000 or less. They also hold the majority of non-jury trials in the state, and deal primarily with citizen disputes, traffic violations, misdemeanors, and minor monetary disputes. Because of this they are colloquially called the "people's courts." There are 67 county courts; one for each of Florida's 67 counties.
Florida's court system has been reformed a number of times, but the most influential was in the 1980s. Violent crime had been on the rise since the 1970s, and in response, harsher sentences were implemented. Yet instead of curbing crime, this instead led to an overpopulation in jails, leading to federal courts granting an injunction that required Florida to stymie the prison overcrowding problem. Yet by the time of the 1980s, Florida's prisons were still overflowing, resulting in tents and other shelters being erected on prison grounds to hold the excess prisoners.
Several solutions were attempted to solve this problem, including reducing the time prisoners had to serve of their sentence, with some seeing only 20 to 37 percent of their sentence before being released. This unfortunately rendered the sentencing structure ineffective, as most would receive their sentence only to have it reduced while in prison.
In 1987, prison expansion began, but crime reached an all time high due to the early releases. Yet in 1988, with bed capacity nearly doubled, early release was replaced with conditional releases.
Viewing this trend, and the results of the decision that were made, Florida's lawmakers reevaluated the incarceration of prisoners. Incarceration is a serious commitment on taxpayers, and due to these factors, Florida has opted more recently to reserve the harshest sentences for repeat and violent offenders only. The criminal justice system is also instituting more robust juvenile rehabilitation programs in an effort to keep them out of jail.
Florida has also taken further steps to improve public safety and crime prevention. For example, sexual offenders are more likely to pose a continuing threat even after incarceration. This led to the development of the Florida sex offender registry. Florida is also one of the first states to institute a law permitting the carrying of concealed weapons for the purpose of self defense.
The state continues to improve it's prison incarceration problem, and improve its public safety and crime prevention services. Below is a table of crime from 1970 to 2016. For more information about an offender in your area, visit a records accumulation and amalgamation website to learn more.